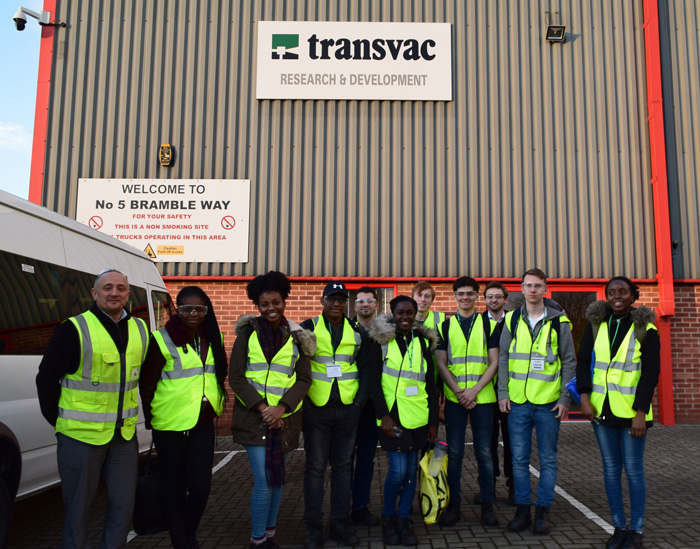 Transvac continues to inspire engineers of the future with annual University student site visit
University of Nottingham Engineering Students Visit Transvac
For Transvac, employing new graduate engineers is a key priority to enable our business to grow and our strong links with the University of Nottingham provide Transvac with a pool of upcoming engineering talent.
Each year Transvac works closely with the Engineering Department at the University to organise a student visit of the facilities at Transvac. The tour this year welcomed some excellent Chemical Engineering Undergraduates, all keen to discover exactly 'what is an Ejector' and how their skills could be used in a SME like Transvac.
The students were welcomed by Transvac's Design & Innovation Director, Gary Short, along with two previous UoN students, Tom More and Tsitsi Ndiriwepi, both now employed full time at Transvac. After a brief introduction to the company, the visitors were treated to a tour of Transvac's state-of-the-art Research & Development facility, including the opportunity to witness one of the test rigs being run. The group received presentations from various departments and challenged the Transvac staff with plenty of technical and curious questions.
Transvac offer a one year work placement for engineering students and the tour also served as a chance for potential applicants to see the facilities and meet the team before applying. For the first time this year, the successful intern will spend time across multiple departments, including Process, R&D and Technical Sales, to give them a full all-round perspective of the business. This approach will also help the intern see how their engineering skills can be used across many different job roles and gives them a chance to see which areas they prefer for future employment.
Gary Short, Transvac's Innovation Director, said "Transvac have a long established relationship with The University of Nottingham, and we thoroughly enjoyed welcoming another fantastic group of engineering students to Transvac. In previous years our intern has stayed within one role for the length of the placement, but this year we hope to give them an opportunity to experience more of the business and really see how their engineering skills can be used in a variety of roles. It was a pleasure having the students here and we look forward to welcoming one back as our intern for 2018."
If your University or College would like to visit Transvac, please contact us to arrange a visit.